Somnath Temple
Somnath Temple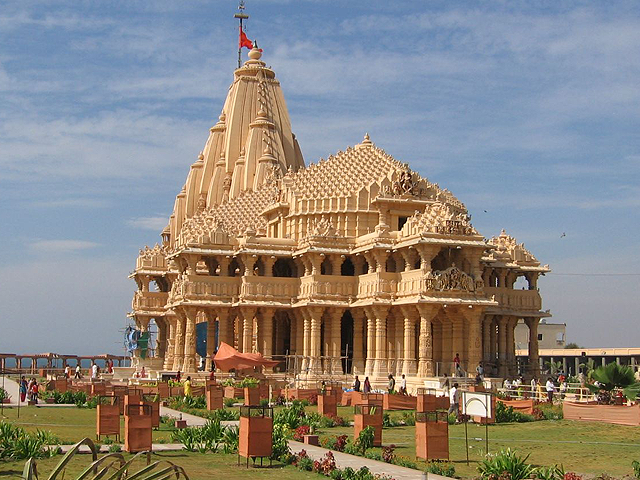 The Somnath temple is near Prabhpas Patan in the state of Gujarat and on the western coast of India. The temple is also supposed to be known as the first Holy Jyotrilinga of Mahadev. Thus it is considered to be one of the most likely spiritual places for Shiv devotees.
This legendary temple has seen many ups and downs of History. It has been destroyed and re constructed many times but then also it is positioned first as an spiritual shrine of Mahadev.
The temple was being destroyed many times by mughal rulers and it was also reconstructed by many Hindu rulers thus we can say that it holds ancient glorious histiry which is interesting for historian and devotees even.
The temple have three aartis daily, one in morning, second in afternoon and third in evening. Thus devotees coming here always get darshan of Lord live and they can experience the blissful experience which is really Lord Shiva's blessing on visitors indirectly.
This is also considered to be the Holy place where Lord Krishna died and went for Vaikunth.
The Importance of Jyortinlinga
There are total 12 jyortinlinga in India of which Somnath is first one. Jyotirlinga simply means supreme eternal life which is helpful to devotees getting salvation and peace for their soul. All other Jyotirlinga are also of same impotance as of Somnath temple is.
As Mahadev has no body and is infite supreme being people found manifesting infinite light in Shrine giving the darshan of Lord Shiva giving lesson that we are also no bodies but souls on journey and salvation is the eternal end of every soul's journey. Other Holy Jyortinlinga are in Rameshwaran, Dwarka, Malika Arjun , etc and many more.
The History of the temple
No one knows were the first time Somnath temple was built despite many historians tried to find out. The second date comes to when Moon God became partial to his 26 wives which were daughters of Prajapati and thus Prajapati gave him curse that the Moon God will lost his existence. Thus Moon God did tapasya of Mahadev and due to Mahadev blessing , the Moon God again came back to life with all heavenly shine.
Thus the Moon God made Somnath temple as a thankfullness towards Lord Shiva who provided him releief from the curse.
Although many attacks were made on the temple, the first Major attack was done by King of Ghazni destroyibg the shrine in the temple and exploiting the wealth of the temple. This happened in 1024 AD. But Hindu rulers later deafeat Ghazni and again repaired the temple doing Pran Prathistan of Shrine again.
But again in Zafar khan defeated Chudasama king and destroyed the Somnath temple partially but it was again repaired by Gujarati rulers defeating the Delhi Sultanate.
The fourth major attack on Somnath temple was made by Potugese who made Goa as their colony. This attack happened in 1546 which not only destroyed Somnath temple but many temples including Mosques.
In 1665 the Mughal emporer ordered to destroy the Somnath temple completely due to his hatred towards Hindu but fortunately this didn't happen due to the joint effort of Marathi rulers and Gujarati rulers who defended the Somnath temple succesfully fighting against the Mughals army again and again.

Reconstruction of the Somnath temple
During the independence of India Prabhas Patan was still rulling under the Princely state of Nawab of Junagadh whose rule exceeded to Pakistan when the Nawab refuse to give his Princely to become independent part of India.
Thus Indian Army attacked on Nawab of Junagadh to make Somnath free and they were succesfull as Nawab escaped to Pakistan in 1947. Then Congress leader P.K Munshi again reconstructed Somnath temple to its fame in 1950.
The first ceremony was done by Dr Rajendra Prasad and he quoted that "the Power of Construction is greater than that of Destruction".

The look of Present temple
The Somnath temple we see presently is in Chalukya style and it gives and represent the ancient Sompura architecture. The shikar of temple is 15 metre's in height with tall flag on the top with its beautiful engraved pole.
The Sanskrit literature Banasthambha states there is no landmass in a straight line from Somnath temple until Antartica which really amuses everyone making Somnath temple and it's beautiful coast a must watch.